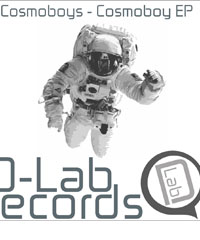 Cosmoboys latest release!
Cosmoboys reveal in their tracks all the passion for rhythm and soul of music, fused their musical backgrounds so naturally and with much fun, passionate listener with the constant changes of mood and always new tensions; in style and with "body movement" in mind offer valuable moments of house, tech-house giving a gentle acceleration of the heartbeat.
Their first work – called "Cosmoboy EP" – has been released for the fresh and promising Estonian label, D-Lab Records. "Cosmoboy EP" is available exclusively at Beatport from 8 June 2011 and June 22, 2011 will be available on all other stores in the dance music area (Juno, Whatpeopleplay, Djtunes, etc.).
Keep your eyes up: Cosmoboys are landing!
Cosmoboys lasciano trasparire nelle loro tracce tutta la passione per il ritmo e per l'anima della musica, fondono i propri background musicali con naturalezza e divertimento, appassionano l'ascoltatore con continue variazioni di umore e stato d'animo, all'insegna dello stile e del "body movement" regalano pregevoli momenti di house, tech-house e garantiscono piacevoli accelerazioni del battito cardiaco.
Il loro primo lavoro – dal nome "Cosmoboy EP" – è stato rilasciato per la giovane ma promettente etichetta estone D-Lab Records. "Cosmoboy EP", sarà disponibile in esclusiva su Beatport a partire dall'8 giugno 2011, e dal 22 giugno 2011 sarà quindi disponibile su tutti glia altri stores di settore (juno, whatpeopleplay, djtunes, etc.)
Occhi aperti: stanno atterrando i Cosmoboys!